The Miami Conservancy District (MCD) is seeking a request for quote (RFQ) to build, install, own, and maintain kayak rental services at kayak lockers at multiple locations along the Great Miami River in southwest Ohio.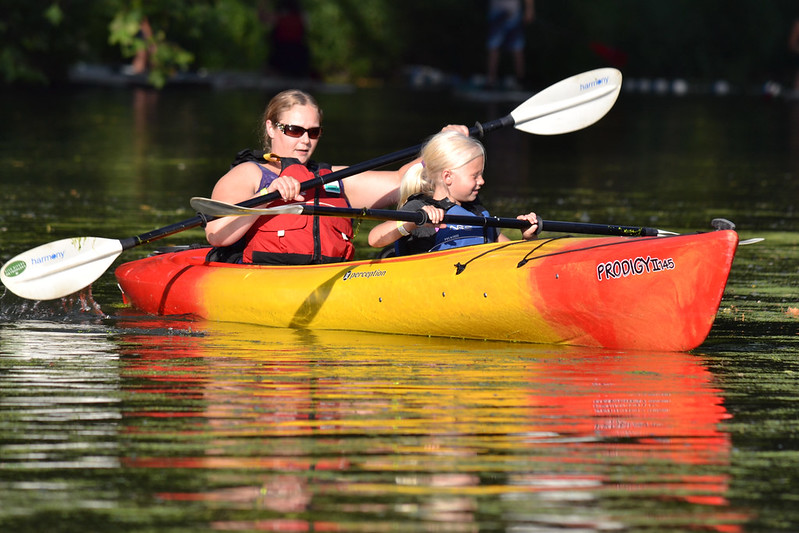 About MCD
MCD protects communities in Southwest Ohio from flooding, preserves the quality and quantity of water, and promotes the enjoyment of our waterways. MCD is a regional agency chartered under Section 6101 of the Ohio Revised Code to provide flood protection for 11 municipalities in the Great Miami River Watershed. MCD includes a main district that focuses on flood risk reduction, and several subdistricts including the River Corridor Improvement Subdistrict that focuses on recreation. Our Main District is responsible for an integrated flood protection system that significantly reduces flood risk from the Great Miami River in cities from Piqua to Hamilton. MCD has developed and built five dry dams and 55 miles of levee and has preserved thousands of acres of floodplain. Together, the dams have stored floodwaters more than 2,000 times since construction was completed in 1922. The levees are regulated by the Ohio Department of Natural Resources under Section 1521 of the Ohio Revised Code and Section 1501 of the Ohio Administrative Code.
MCD's River Corridor Improvement Subdistrict enhances public use and enjoyment of river corridors by utilizing improvements, amenities, and activities within and along the river corridors. Whether you like to fish, paddle or cycle, you'll find plenty of opportunity in the Dayton region. More than 40 years ago, MCD built the first 8-mile bike trail loop in downtown Dayton – a trail segment that has become the backbone of the largest paved trail network in the country, with 340 miles. And the region boasts more than 290 miles of rivers and streams to fish and paddle. Under RCIS, MCD maintains around 30 miles of multi-use trails as part of its mission to promote recreation in the region's river corridors. MCD also manages the Great Miami Riverway, a coalition of river communities that work together to promote the riverfront citiesand recreational and economic development opportunities.
Additional information about MCD may be found at www.mcdwater.org.
Requested Proposal of Services:
Provide rental services and customer service to rent out and have returned, kayaks from the kayak lockers to the public using an app. Approximately seven communities along the Great Miami River have expressed interest in participating, pending more information.
Work with MCD to identify the kayak locker locations.
Enter into an agreement with the landowner of each location to install the locker on their property.
Kayaks and access points should be designed for beginner and intermediate level paddlers.
Life jackets and paddles must be required as part of the rental service.
Operator will provide financial management of the rental system.
Operator and MCD will come to a revenue sharing agreement with the initiative.
Operator will show proof of insurance and assume all risk for the kayak rentals. None of that risk will be transferred to MCD or its partners.
Maintain approximately 4 - 8ayak lockers at each location for renting as storage to paddlers who want to store their boat.
Operator will enter into an agreement with MCD for all kayak locker locations. Agreement will be one year and renewable for additional one year.
When agreement ends, operator will remove all lockers.
General Qualifications
All firms submitting their qualifications must provide the information below:
Firm name, mailing address, telephone number, web address (if applicable), name, and email address of contact person.
A brief (no more than one page per type of service) statement of interest and qualifications for the work requested that your firm is qualified to provide.
Discussion of firm's specific abilities and expertise to provide the required professional services.
Discussion of firm's capacity and personnel resources to perform the types of services described in a timely manner.
A list of key personnel anticipated to be project team members, including detailed resumes and experience on similar projects.
Examples of recent related kayak share/rental projects completed by the firm including discussion of unique knowledge, expertise, or experience offered by the firm for those projects.
At least five (3) references from other agencies or corporations, three (3) of which should be local, regional, or state government agencies, for which the firm has established a contract for a similar type of project. Reference information must include:

Project name
Name of owner
Name and contact information of owner contact person
Submittals
The Request for Quote (FRQ) including all attachments and appendices is due to The Miami Conservancy District, Riverway Director at the contact information below no later than 4:30 p.m., Eastern Daylight Time, June 15, 2023. Email acknowledgement of receipt will be provided.
Please note in the subject email, "Great Miami River Kayak Share"
Questions regarding this RFQ should be made in writing to:
Dan Foley
Director,
Great Miami Riverway
Miami Conservancy District