Now that we have your attention, we want to tell you about an exciting new "trail" in the Great Miami Riverway. This trail is not only long, it is delicious! Announcing: the launch of the Great Miami Riverway's PIZZA TRAIL of locally-owned pizza shops.
Did you know that the largest pizza ever baked weighed 26,883 pounds? For some perspective – that is 44 times heavier than the Wright brother's Wright Flyer aircraft!
That particular pizza measured 122 feet, 8 inches in diameter, weighed 26,883 pounds, and contained 9,920 pounds of flour, 3,960 pounds of cheese, 1 763 pounds of mushrooms, 1,984 pounds of tomato puree, and 1,984 pounds of chopped tomatoes.
If you're looking for a pizza that can actually fit in your car - or plane - for takeout, the Great Miami Riverway has every kind pf pie imaginable.
Locally-owned pizza shops are a source of pride for communities, and serve as part of the fabric of each Riverway community. And they all have a story behind them, a story of a small business owner who's worked long hours to build a loyal customer base that lasts years and years.
A favorite in Hamilton, Richard's Pizza was first opened by Richard Underwood in 1955. Richard's daughters continue to run the business in five locations around Hamilton. He said in a 2019 Hamilton Journal News article "…we only buy the best products available. That typically means tomatoes, pepperoni and cheese from local, family-owned businesses. We don't believe in short cuts or adding sugar to our sauce," Richard said. "You can make a cheap pizza that way, but that doesn't work for us. It's all about quality."
The pizza shops of the Riverway offer hometown favorites, gourmet flavors, gluten-free, vegan, and GIGANTIC. Your favorite shop is probably on this list, but use the Pizza Trail list to pick a new place to visit, or hop the whole trail and try them all!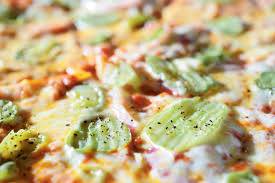 Posted on Jan 12, 2021 By: Sarah Hippensteel