One of the Riverway's most important and influential historical figures, Paul Laurence Dunbar, was an acclaimed writer and voice for equality for African Americans who lived from 1872 - 1906.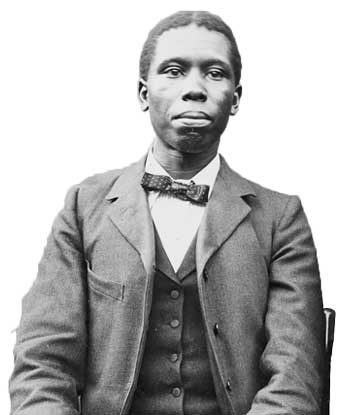 Born to former slaves in Dayton, Paul Laurence Dunbar's work reveals the daunting challenges facing African-Americans in the post-Civil-War-Era. Though he died at age 33, Dunbar published over 400 poems, six full-length novels, plays, short stories, and lyrics for musical productions.
He was the eldest of two children born to Joshua and Matilda. Paul attended Dayton's public schools. He was the only African American in the Central High School class of 1890; so few African Americans attended high school at the time that segregated public secondary schools were financially unfeasible in Dayton. At Central High, Paul edited the school newspaper and was a member of the literary and debate societies. Future aviator, Orville Wright, was a member of Paul's high school class but did not graduate. However, Wright printed several issues of a newspaper that Paul published and edited for the African American community of west Dayton, the Dayton Tattler.
To The Miami
Dunbar's first published book, Oak and Ivy, features the poem "To the Miami", which strikes a chord with us in particular as it features the Great Miami River. Read the first stanza:
Kiss me, Miami, thou most constant one!
I love thee more for that thou changest not.
When Winter comes with frigid blast,
Or the blithesome Spring is past
And Summer's here with sunshine hot,
Or in sere Autumn, thou hast still the pow'r
To charm alike, whate'er the hour.
You can find the entire poem here.
His poetry influenced Harlem Renaissance writers James Weldon Johnson, Langston Hughes, and Claude McKay during the 1920s and continues to influence contemporary American literature. The famous poet Maya Angelou took the last line of Dunbar's poem, Sympathy, for the title of her book, I Know Why the Caged Bird Sings. Paul is buried in Dayton's Woodland Cemetery.
Visit Dunbar's restored home
While the restored home of Paul Laurence Dunbar house is closed to visitors due to the ongoing pandemic, you can still plan your trip to visit in the future. The home is part of the neighborhood now known as the Wright-Dunbar Village. This is the neighborhood where the Wright brothers also lived and worked. The Wright-Dunbar Interpretive Center includes an information area, bookstore, theater, and exhibit gallery. The center's exhibits focus on the Wright brothers' printing and bicycle businesses, their family history, and their association with poet, Paul Laurence Dunbar.
Find Your Way – to learning more about black history along the Riverway.
Content in this post attributed to the websites of the National Park Service, Dayton History, and Ohio History:
https://www.nps.gov/people/paul-laurence-dunbar.htm
https://www.ohiohistory.org/visit/museum-and-site-locator/paul-laurence-dunbar-house
https://www.daytonhistory.org/visit/dayton-history-sites/paul-laurence-dunbar-house-historic-site/
Posted on Feb 17, 2021 By: Dan Foley