We have some incredible museums and galleries along the Great Miami Riverway, but one of our favorite ways to experience art is through the vast selection of street art and murals in our riverfront communities.
It's amazing when artists take to the streets and work to make the beautiful communities along the Riverway even more pleasing to the eye. If you are interested in taking a mural tour of the region, you'll walk away with more than just great art. You'll see the stories that make our region great, and learn about new artists you may not know from the indoor galleries and museums.
We've listed four of our favorite places to visit to see amazing murals from our list "99 things to do along the Great Miami Riverway."
#26 - Take a walking tour around Franklin and visit the artwork of Eric Henn's 3D murals.
Franklin is dubbed 'the City of Murals', largely owing to artist Eric Henn, whose stunning works depict the town's history. One can't-miss creation is the brick arches mural at 4th Street and South Main, a beguiling masterpiece that fools the eye. Make sure to also check out the 3 - Veteran's Memorial Mural at 422 S. Main Street, the delivery mural on Pisanello's at 4th & Main Street, the suspension bridge mural at 3rd & Main Street and the Old Time Diner Mural at 3rd & Main Street. Check out our full guide to murals in Franklin here.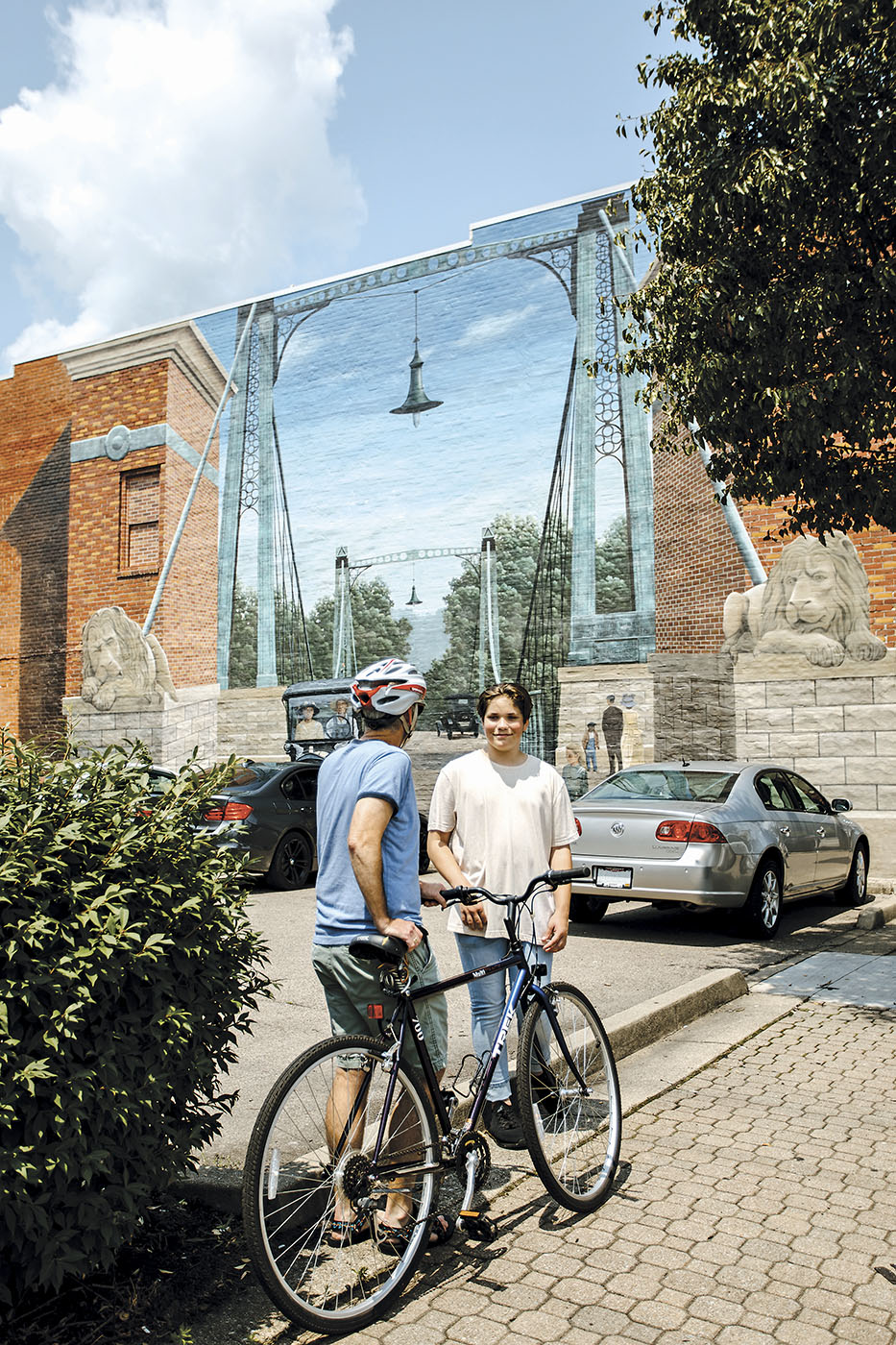 #38 - Take a self-guided tour of Hamilton's street art - visit the murals and sculptures around town.
Take a walking tour of Street Spark, Hamilton's public art program that features 11 different artworks. The mural project is a joint partnership with the Fitton Center for Creative Arts, the City of Hamilton, and the Hamilton Community Foundation. Highlights include a darling tribute to writer and illustrator, Robert McCloskey; a colorful homage to the city's namesake, Alexander Hamilton; and a dynamic collection of visuals celebrating cars, music, nature and innovation.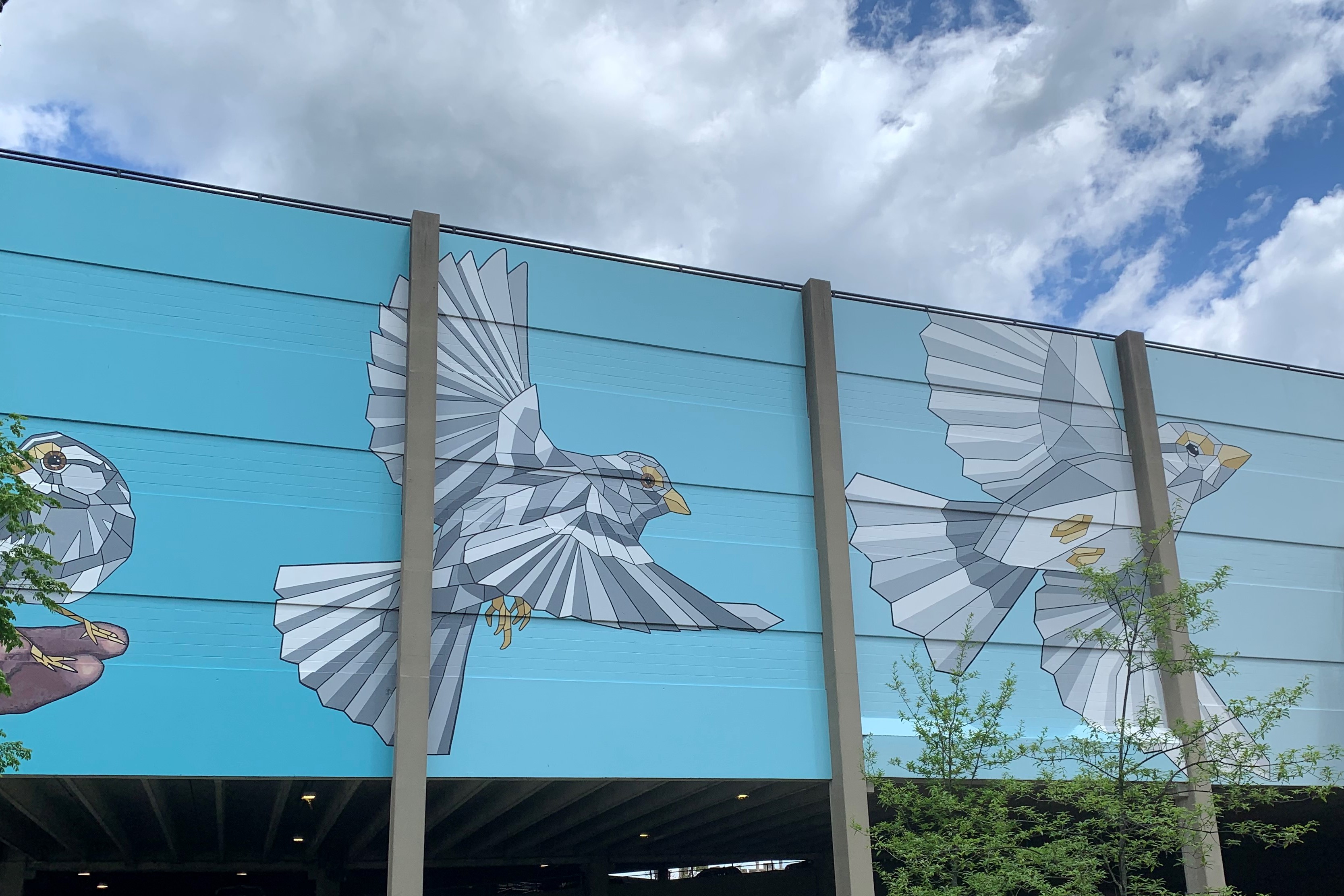 #51 - Take a walking tour of Middletown's New Discoveries Mural Tour.
Step into Middletown to visit 16 pieces of mural art on display throughout the city. The murals are easy to explore on foot, the suggested walking path terrain is flat and paved, and wheelchair accessible. Murals include glimpses of yesteryear with historic settings, as well as colorful and dynamic murals celebrating rich culture and nature. The entire mural walking tour is less than 1 mile, if you take the suggested loop, and the city makes it easy for you with their online map (viewable here) that can be viewed on mobile devices and carried with you.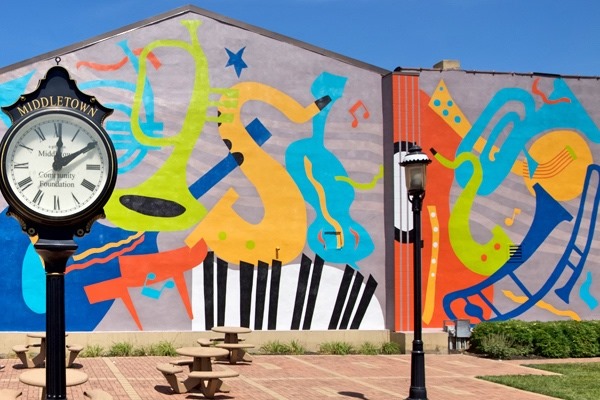 #75 Take a selfie at Tipp City's iconic Gem City mural.
If you have visited Tipp City's historic downtown, you probably know there are two well-known and hard to miss murals, also known as ghost signs. But, did you know there is also a third mural that was added on the outside wall of the Tipp City public library wall? All three murals create an instagrammable backdrop to some amazing shots that celebrate the historic nature of downtown.